Our Blog
Getting started with SAP Cloud ALM for on-premise based SAP systems

What is SAP Cloud ALM?
SAP Cloud ALM is the new kid on the block from SAP when it comes to Application Lifecycle Management (ALM). You can call it a spiritual successor of SAP Solution Manager where SAP is reimagining how ALM should be managed. It has a cloud first strategy and focus so it was invented to support and manage SAP's Cloud Applications first and foremost. This is in line with the general strategy of SAP if we look at the future, with a strong emphasis on cloud based applications.
On the SAP Cloud ALM product page, you'll find a lot of information and links to relevant sources.
Is there a licensing cost associated to it?
For SAP customer who have subscribed to a SAP Cloud Service that includes SAP Enterprise Support, cloud editions the answer is "no". If we look at the details this translates into being eligible to use SAP Cloud ALM in terms of regular usage with a limit on how much storage/memory is used on the database (SAP HANA) that is running underneath the application*.
So the initial creation of the SAP Cloud ALM tenant, the initial and continuous usage of the underlying cloud infrastructure (up to a certain threshold) is for the above mentioned customers, included in their support fee.
*If you would exceed the database capacity, there will be a cost associated to it. Note also that the most generic use cases won't cause you to exceed this capacity but as more and more processes and functionality becomes available, I can imagine some use-cases where the customer can definitely drive up the amount of data that is stored behind the scenes of SAP Cloud ALM. For example, uploading a lot of documentation that relates to business processes/projects would make the underlying database grow.
Requesting a SAP Cloud ALM tenant via SAP Support Portal
In general, you can follow the steps of the setup and administration guide to get started that you can find here: Introduction – SAP Help Portal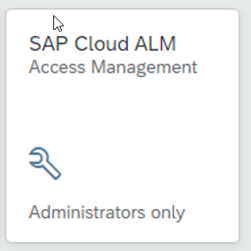 A tenant is to be requested via SAP's Support Portal. You can find a tile in your SAP launchpad called "SAP Cloud ALM – Access Management" through which a tenant provisioning can be requested. Note that you need administrative S-user rights on your customer number in order to process this step. If you are not, you'll find a reference to whom in your organization could request this.

You'll also see a column "entitled" where you should see "Yes" so you know your customer number falls under the above mentioned agreement.
Once you have requested the tenant, you'll see the provisioning status will shift to "in progress". Once the provisioning is ready, you'll receive an e-mail to start.
As part of the process, you'll receive an e-mail to access a user identity provisioning service on SAP's Business Technology Platform to take the next steps to get started.
Getting an on-premise system connected
The connectivity for an on-premise system is HTTPS web based connectivity (API based) and incorporated into the ST-PI component that is part of the SAP Netweaver AS ABAP stack. The recommended minimal version is ST-PI 7.40 SP16. If you have a lower version, you won't have all the functionality at your disposal and you might face more issues as such as well getting the scenario's to function properly.
On the on-premise side, a program /SDF/ALM_SETUP can be used to set up the connectivity. Note that you need to go through the setup and administration guide as there are other small perquisites that need to be met. Be sure you check for "/SDF/ALM_SETUP" and "SAP Cloud ALM on-premise" on the SAP notes / knowledge base for relevant bug fixing before you start implementing it.
Note that cloud based applications are automatically discovered so I can also see SAP Analytics Cloud in my SAP Cloud ALM tenant, for example, without having to go through additional setup steps.
Enabling SAP Cloud ALM API
At a certain stage, the documentation tells you to go to the SAP Business Technology Platform Cockpit but this isn't necessary the SAP BTP cockpit you have been used previously (it was not in my case). In your mail, you'll see a URL that is provisioned for your SAP Cloud ALM tenant. That URL will contain the right datacenter (eu20 for example): https://nessi-cloudalm.eu20.alm.cloud.sap
When they then state go to the SAP BTP cockpit to perform certain configuration steps, they mean https://cockpit.eu20.hana.ondemand.com/cockpit/
Real User Monitoring
To end, some screenshots of output on the real user monitoring scenario that is configured against the on-premise SAP system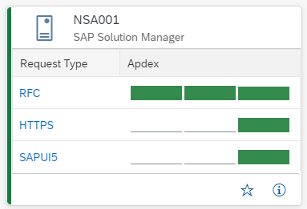 On the homepage, you have a quick overview
Then you can also drill down into more detail, if we look at the RFC calls that happened in the system in to more detail we see this: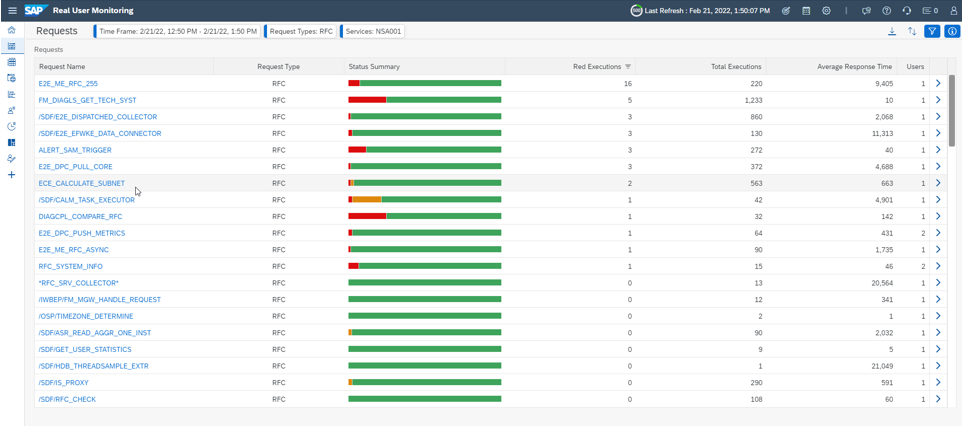 If we look at the front-end statistics, we can get more insights into the OS/Browser/Time spent details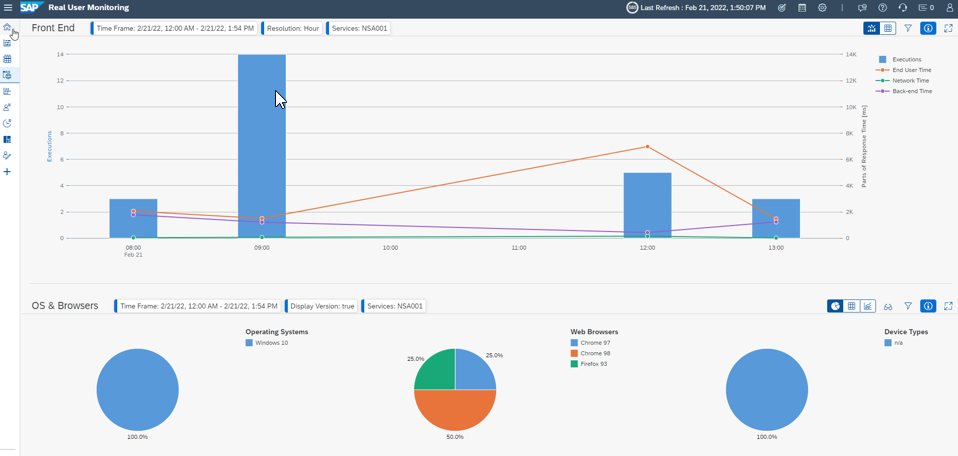 Similarly we can check details of other request types and dive into more details

SAP Cloud ALM added value and future outlook
I do believe SAP Cloud ALM to be of interest to many customers already, today. There are quick wins that are waiting to be reaped. Especially on the cloud applications front, you can already get started to gain insight into the operations part of your SAP Cloud Software. Where in the past it was perhaps sometimes a bit of a black box, now you can get some insight into the functioning/operations of your cloud applications and take action on the insight that you receive.
Be sure to have a look at the product page and information made available by SAP.
From a SAP Mentor perspective, I'm providing feedback to SAP on usage of SAP Cloud ALM and more. Suggestions are being passed on in terms of what I would like to see and what is potentially missing. The ALM teams are, in general, very open to constructive feedback and suggestions and are actively engaged with many SAP partners, SAP user groups and SAP Mentors.
You might say it's still early days for SAP Cloud ALM but this is where the future is headed in terms of ALM for SAP so this is definitely on my radar and it should be on your radar as well.
Back to overview